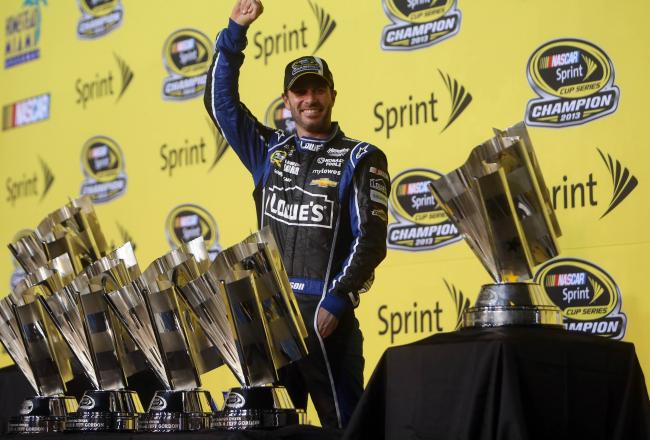 In every era of NASCAR, there has been a superstar - Petty, Earnhardt, Gordon, Johnson. That's not to say, there weren't others inside the sport who were just as good or who were equally, or even more, beloved of fans. But there was one name that came up over and over when you asked the man on the street who they thought of when they thought NASCAR and it's the four I have named. They were the ones who took the sport beyond itself and into the wider world. They are the stuff of which legends are made. NASCAR tries constantly to create "parity" but their efforts are in vain. There is always a team that stands out from the rest, a team that takes the the few opportunities for individualism NASCAR gives them and turns them into superiority. They are the first round draft picks for the Hall of Fame.
It is good for NASCAR to have these men who out-perform the others? Many fans appear to think not. I see their comments that Jimmie Johnson is ruining NASCAR, stinking up the show, winning too much, making racing boring. But is what they desire for their sport a kind of generic mediocrity in which every team wins its allotted "share" of races? Do they think this would make for a more exciting racing? Is this what NASCAR needs to attract attention and fans?
I'm a Team 48 fan, pure and simple. I want Jimmie to win seven and then eight. I want him to break Petty and Earnhardt's record for championships. I want him to go where no NASCAR driver has gone before.
But, then, you know what? I hope our new young crop of drivers flies even higher. I hope Kyle Larson comes in and wins Rookie of the Year, then begins a campaign to threaten Jimmie. If Jimmie wins eight, I hope Kyle wins ten.
I was never a rabid sports fan until NASCAR but I think sports should always be a quest to be the best ever and I hope there is always a superstar exceeding the records of the old superstars.
The King is dead. Long live the King....into the future.