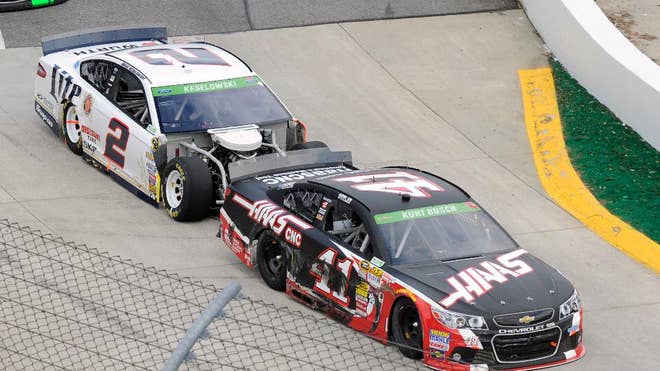 Gotta' love it! Two of our most aggressive drivers banging around on one another on the track. Followed by provocative statements of future paybacks. Kurt Busch, joyful winner of the race, didn't really want to talk about downer subjects on the day of his triumph so he tried to shame ESPN for harping on it. (Kurt was correct but is the media embarassable?) But still, he indicated that retaliation for Brad Keselowski's "punk-ass move" would be considered when the time was right.
Keselowski, meanwhile, was more than willing to spill all about his unhappiness with Kurt and how he ruined what Brad thought was a win-capable car. I didn't really see it that way myself. I think what happened was simply a product of Martinsville's narrow and difficult-to-negotiate pit lane but in Brad's view, it was all Kurt's fault.
Will this feud continue? Oh, I hope so! Both Brad and Kurt are champion drivers. Both are daring, testosterone-driven drivers. Both tend to hold a grudge.
Over all though, I think Kurt might be willing to let it go. He's spent most of his career embroiled in controversy. It has cost him good rides. Gene Haas stepped up and gave him his last, best chance to win another championship. He was holding the trophy, well, not exactly holding, more like hugging the grandfather clock, for the first time in 84 races.
It has to feel great to be able to reward Gene Haas for his faith. Haas had said he just wanted to see a car with his company's name on it in Victory Circle and there it was, only 6 races into the season. And to match the performances of your teammates. And to give your team the thrill of a win. And to have your girlfriend's young son share the excitement with you. And to beat Martinsville's best, clean and straight-up.
If he lets a pissy little fuss with Brad Keselowski over-shadow all of that, he hasn't learned as much from past experience as I think (and hope) he has.
It was another near-miss for Jimmie Johnson but how bad can you feel when you dominate a race, lead the most laps and your car just doesn't quite have what it takes to overtake the winner in the last few laps? I'm sure he was disappointed but as in California, it wasn't as if he wasn't running well. Onward and upward, Jimmie. Maybe Texas will be your time.
Dale Junior came in third and went back to the top of the point standings. Matt Kenseth is still in second. I guess I haven't been paying attention to how consistently he has been running - not setting the world on fire with top fives but evidently he hasn't had any really terrible results either...which is typical of Kenseth.
Danica has been qualifying dismally but running decent in the races. This week she qualified 10th but ran dismally in the race. Now, she needs to put them both together!
Another good finish for Richard Petty with a top five for Marcos.
Denny Hamlin needs to stop boasting in advance. He ought to know there are so many factors in a race that you simply can't predict that you'll win. It makes you look foolish when you do, then finish 19th. Just keep your mouth shut and do your bragging afterwards.
For those who like drama with their racing, there was drama a'plenty at Martinsville. Now we head west to see what Texas has to offer.