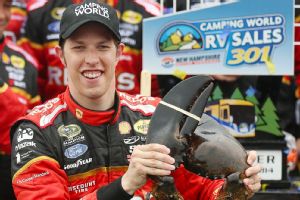 Sorry, New Hampshire, but I've always hated this "trophy". I wish you'd give replica of a lobster instead of hauling a living creature around with its claws taped shut so it can be displayed to the crowd. That's just me though. I'm a bleeding heart when it comes to any kind of animal.
To tell you the truth, I thought the truck race was the best one of the weekend, watching the newbies scrapping for a win without the Sprint Cup drivers there to overshadow them. (I know, I know, we've discussed this a million times!) Congratulations to Erik Jones.
The Nationwide race was the usual boring Brad 'n' Bush show. And darn, if the Cup race didn't turn out to be almost exactly the same. Brad swept and he didn't even look like he had to fight especially hard to do it. He appeared to be on cruise control, leading the most laps in both races, seemingly able to turn up the heat whenever he needed to do so. Kyle tried his best to make Brad earn it but honestly, I don't think anyone else was ever a threat.
Of course, Jimmie, my main guy, was out of it early with tire problems. Once that happened, I was rooting for someone who hasn't won yet this season - Kyle Larson or Matt Kenseth or Tony Stewart. And they did all show up near the front - close but no cigar.
I think NASCAR needs to tell Kenny Schrader to retire. He may be the greatest guy in the world but he's got no business in the most competitive series in motorsports. He ended up taking out Joey Logano from ten laps down. There comes a time for all of us when we have to admit we can't cut it anymore and Kenny is there.
All right, I bitched about the boring races but that still doesn't mean I'm looking forward to an off week. Truth is, I'd rather watch the dullest race in the world rather than no race at all.