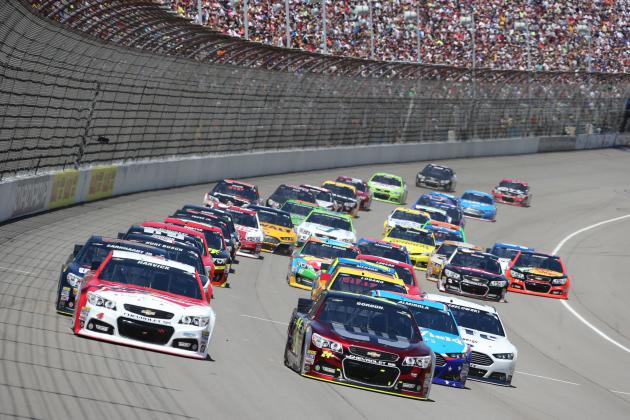 Well, the 24 was leading at the start and leading at the finish. Way to polish off your third win of the season, Jeff!
Of course, there were a few twists and turns in between the dropping of the green and the flying of the checkered. Some of the cars that have had atrocious luck lately still had atrocious luck. Kyle Busch hit the wall early on. By the time they got him back on the track, he was many laps down. Kenseth got caught up in a wreck. So much for his day. Danica spun out. Kyle Larson's tire went down and took his Chase hopes with it. Jimmie's gear shifter broke and he was a lap down by the time it was fixed although he still managed to eke out a 9th place finish.
Joey was Jeff's stiffest competition. My guess is that six months ago, Joey might have won because Jeff simply hadn't learned how to nail restarts. It was his weakest area in the early races but he's got it down now. I expect when you know you're in the Chase, you have the confidence and security of taking chances you might not have taken when points were still important. At this stage, Jeff can go for broke and let the chips fall where they may and he did.
So that's three of Hendrick's drivers with three wins a piece and Brad with three wins. Kevin Harvick really should be there with them but he appears to be stuck in that "always a bridesmaid, never a bride position". His cars are always fast but some little miskabobble always seems to crop up to keep the ultimate prize out of his grasp.
One of the most interesting situations in NASCAR this year is watching the competition between Kyle Larson and Austen Dillon. I think they are about even up in talent but they offer a stark illustration of two basic types of drivers. In Larson, you have the aggressive risk-taker. He draws attention with his daring moves. He'll rim ride higher than anyone else and pull a slide job that looks impossible.
But then there is Austen. He's cool, calm and collected and appears to focus on the long-term goal of finishing every lap (which he has done more often than any driver in Cup). He'll take the safe 10th rather than take a chance of wrecking to get a 5th.
So, which of these two techniques will prevail over time? The Gambler or Mr. Steady As She Goes? It will be fun to see how that turns out.
Of course, Tony Stewart skipped another week and may miss Bristol too. I assume he is waiting until the conclusion of the investigation which will either exonerate him or charge him with some crime. Who could race without distraction with that uncertainty hanging over your head? I couldn't. Even when the legal part of this sad story is settled, it will still be difficult for Tony to get back in the groove, I think. Shattering his leg was bad enough but it is much easier to grit your teeth and get through pain to your body than it is to overcome an invisible wound to the psyche.
Three more races until the Chase means three more chances for those without a win. Who will they be? Kenseth? Bowyer? Kahne? Larson? Or someone else? I'm rooting for Larson myself. How about you?