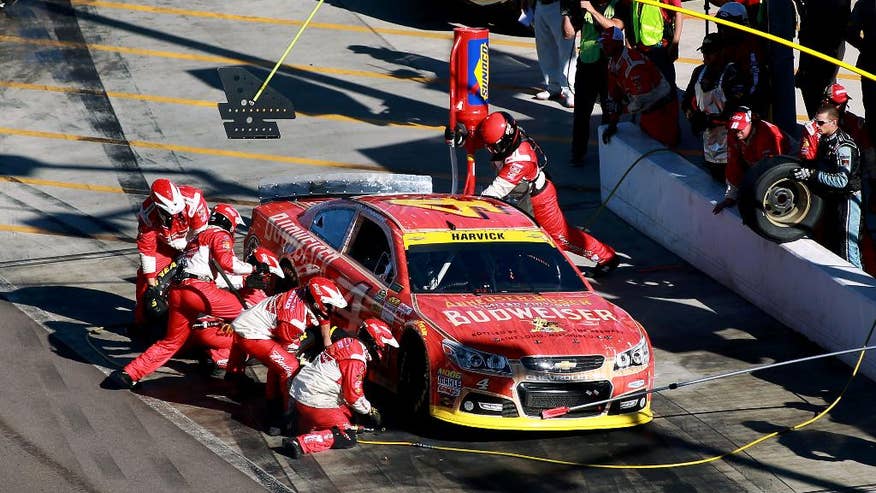 And then there were four - Kevin Harvick, Joey Logano, Denny Hamlin and Ryan Newman. Congratulations to Kevin Harvick for pulling this one off. His only chance to advance was to win and win he did. His car was definitely "freaky fast" all day.
Although I don't like it personally, I think Brian France got what he was hoping for out of this year's Chase. He said he wanted more "game seven moments" in NASCAR and I believe that's what we've seen here at the last.
In both Texas and Phoenix, the points standings changed from lap to lap. Teams would be in the top four and fall back to be replaced by others who advanced and then it would all change up again. Poor Jeff Gordon. What a roller coaster ride the last two weeks have been for him. In Texas, he looked to be safe to move on until Brad shot the gap between him and Jimmie on a restart and he ended up hitting the wall with a cut tire. Then in Phoenix, he was in by a single point until Ryan booted Kyle Larson so that Jeff and Ryan switched places.
I have to say, I don't think either Brad last week or Ryan this week did anything wrong. This is what NASCAR wants. They have sold this format to us as drivers stressed to the max. The NASCAR commercials all focus on the pressure they're under. They sweat; they clench their fists; crew chiefs bite their lips. We, at least some of us, maybe most of us, want that. The "do whatever it takes" mentality. The fight last week created the publicity for this week.
Whether the best four drivers will be fighting for the championship, I have my doubts but, it doesn't matter. They are the best four under this set of rules. If Ryan Newman earns the Cup without any wins, he will be as legitimate as any other champion. You can only play the game the way NASCAR sets it up.
Again, I think NASCAR will be pleased that whoever wins, it will be someone who has never won a championship before. That aspect of it, I admit, is rather satisfying. I'm not rooting for anyone in particular now. Homestead will be stress-free for me because of that.
I still think bad races hurt more than good races, even wins, help. Junior, Kyle and Brad are all proof of that. I think NASCAR is leaning more toward an X Games "watch this!" mentality than one based on pure performance but hey, it's NASCAR's sandbox, as they say, so I'll live with whatever they decide. We'll see what 2015 brings.
Kurt Busch. We don't know much yet but nothing I've heard surprises me. If ever there was a tremendously talent person who continually sabotages himself, it is Kurt. He just seems to have a self-destructive side to his personality. I will say, the crew chief and team switch seems to have benefited him....though Danica, not so much.
I hung in and watched the entire Nationwide race, though I was tempted to turn it off when I could see it was going to be Kyle and Brad chasing each other around all night, because I wanted to see if Chase Elliott could secure the championship....which he did. Yay, Chase! Now, of course, we'll all be dying to know what happens next. He'll probably race Nationwide one more years (at least, according to Rick Hendrick) with maybe a few Cup races as well. But then what? Someone has to leave Hendrick for Chase to come to Cup. Who will it be? Rick let Brad Keselowski slip away because he didn't have an open ride. I don't think he'll want to let that happen again.
I will give Brad credit for an incredible pass at the very last to steal this one from Kyle. I'm glad I saw it.
I missed the Truck race, I wish I could get more excited about the trucks but I just can't. For me, they don't have the sex appeal of cars.
I can't believe this season is almost over. For all the griping I have done lately, I hate seeing it end. I already can't wait until Daytona!