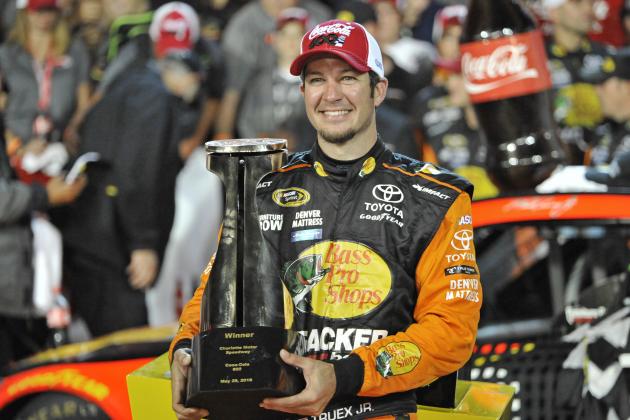 The first 500 miles of the Coca Cola 600 weren't exactly suspenseful. The night belonged to Martin Truex, Junior, start to finish....and it couldn't happen to a nicer guy. The last 100 miles were intense only because we all know the kind of misfortune Martin has experienced this year when Lady Luck always seemed to tauntingly snatch away a victory that looked almost certain. I was bouncing on my chair, hoping that this time, he would make it to the finish line without incident. Evidently, even the Lady has some mercy in her heart because that's what happened.
I've heard so many people say this season that the 78 just couldn't seem to pull off putting a whole race together but when they finally did, they did it an outstanding fashion. They broke their almost year-long losing streak by leading all but 12 of the entire 600 miles, the most ever led in a single race. (Jimmie led the 2nd most - 5 laps - ha!ha!) It was the fastest Coca Cola 600 ever run. Martin earned a perfect driver rating, his first ever. He was passed exactly once by the 48 but that didn't last long. Truex was leading at the 100 mile mark, the 200 mile mark, the 300 mile mark, the 400 mile mark, the 500 miles mark and of course, the 600 mile mark.
The win was made even more special because it was Memorial Day weekend and Barney Visser, owner of Furniture Row Racing is a Vietnam veteran. All the cars carried the name of a soldier who died in the line of duty. For the 78, it was Gunnery Sergeant Jeffrey E Bohr, Jr, a member of the Marine Corp, who died on April 10, 2003 during Operation Iraqi Freedom.
I kept watching Martin's girlfriend, Sherry Pollex, near the end of the race. You could tell her stress-level was sky-high, hoping but almost afraid to hope, lest those hopes be dashed once again. It was an emotional scene in Victory Lane. Sherry crying opening. Martin crying but trying not to be obvious about it. Drivers and crews coming up to congratulate him.
Now he's virtually assured a spot in the Chase. What a relief that must be. I think we'll see more wins now that he not only shrugged the monkey off his back, he stomped that sucker into the pavement!
In another note, I was glad to see Rick Hendrick and Richard Childress make it into the Hall of Fame. Owners aren't like drivers. They don't retire but usually die in their traces so they have to be honored while they're still alive and active. The other three, Benny Parsons, Raymond Parks and Mark Martin, were also great choices.